Greetings Friends,
I've finally gathered my resources to the point that I feel comfortable creating a more consistent thread, with both finished goods and certain commissions! This will include some regularly available items, as well as one-offs and things from my personal collection that have served their full utility to me. Also included is a list of things I'm currently looking for as trades; please get in touch via PM if you would like to negotiate a trade and have something specified in my sought items list. Without further ado, here's what I've got:
Semi-Custom LSDJ Keyboards: $60
I spent a while doing field research and fine-tuning my methods and materials for producing these, and now feel comfortable doing so as a production item. These are brand new current production PS/2 Keyboards for use with any Game Boy that can run LSDj and accepts a link cable serial input, either via adapter or via built-in PS/2 port (my personal preference). These are tested and fully working with LSDj 4.6.7, and have virtually no complications or compatibility issues. I can test them with your preferred version of LSDj upon request. I'll include an .LSDSNG with some keyboard patches with purchase if you ask nice.

Here's the flagship, my personal setup: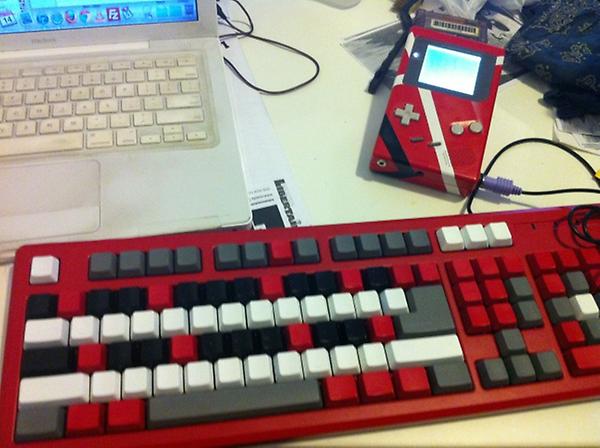 Detailed Specs:

› Show Spoiler
I'm currently making these with a red base coat, which is something I first did to emulate the look of the Nord Electro:
I'm open to making these with an additional level of customization. If you'd like a keyboard with something like different colors, or if you have something else in mind, please do ask in the thread. I'll look into it and publicly share whether or not I feel that I can offer that and what the price difference(s) would be.
Specifically concerning the wiring and adapters:

› Show Spoiler
From The Collection
NEW Bright White nonfinite V3 ULTRA DMG/MGB Backlight Kit: $15 Shipped!
This is one of the nonfinite V3 ULTRA backlight kits, the latest ones he has produced. I ordered two of these a while ago and only installed one. I ended up wanting to do something different with my personal game boys, so this one was never installed. I have, however, already installed the resistor, so that will save you a step.

Note that although the product description states otherwise, you will still want to cut the bottom of the LCD frame to install these.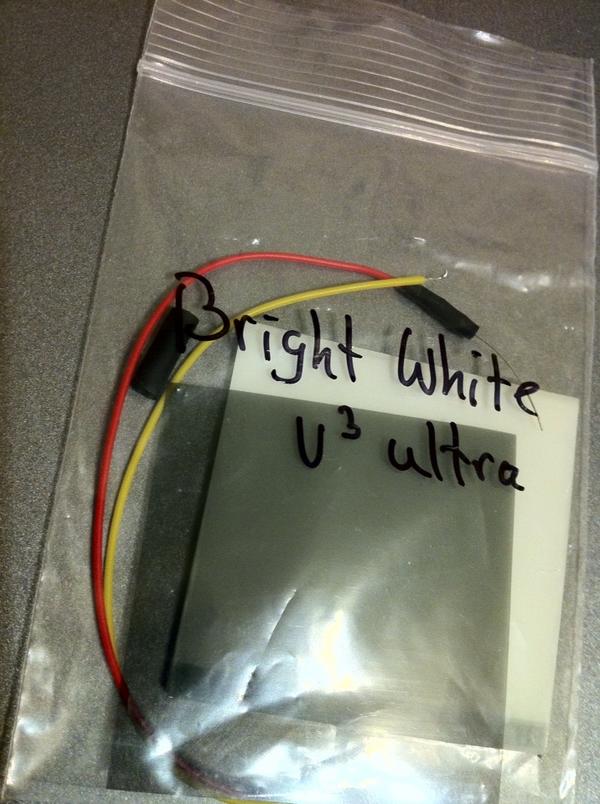 Since this is new and in the packaging, I'm asking close to the new price, but I'm throwing in the shipping, so you do end up saving time, money, and trouble. PM me with your PayPal, send $15, and this jets its way to you USPS first class!

3.5mm (1/8") Pro-Sound Game Boy Color, Lime Green: $50
This Game Boy Color has a pre-pot pro-sound modification, meaning that the line level output bypasses the volume potentiometer entirely; ergo it does not color the sound and is always at full output going into your mixer or amplifier. The TRS jack is installed behind the speaker and below the battery case, and is barely noticeable in normal use. The Game Boy was acquired used and has some normal cosmetic wear, but is in perfect working order.
Game Boy Colors have more powerful processors and can run some software, like Carillon tracker & LSDj, better than DMGs and Game Boy Pockets. They also have some of the best battery life of the Game Boy family. It's worth having at least one around just to experiment with, or as your carrying-around Game Boy.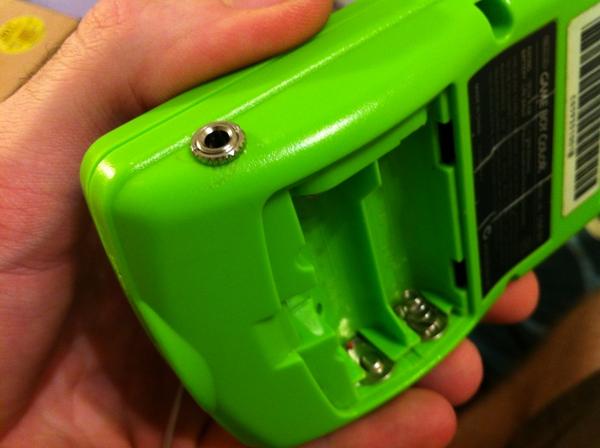 I actually have two of these with the same mod in the same color, but one is missing the battery cover, and I wanted to replace it before I sold it.
NYKO Shock 'N Rock for Game Boy Color: $10 or best offer
I got this as part of a lot when I bought some stuff on craigslist. It's a combination battery pack and amplified stereo speaker set for Game Boy Color. The battery still holds a charge. It also has an unusual feature where it will rumble along with the music, which will be fantastic when they finally finish porting REZ to Game Boy. In the mean time, you can turn it off if you want.


I just noticed part of the battery clip has broken out of this, but the way it connects to the Game Boy holds it securely onto the device in normal operation. Weird.
Coming Soon!

› Show Spoiler
Sought For Trade
Here's a list of things I'm specifically looking for as trade items. I'm open to other trades, but these are things I am definitely interested in:
Nintendo DS / DSlite

GBA SP Headphone Adapters (Who isn't looking for these?)

Recording equipment: Mixer, 8 to 12 channel; Condensor Mic; 4 track/8 track cassette tape recorder.

Miscellaneous DMG parts.

Commodore Stuff
Last edited by Telerophon (Jan 8, 2013 4:18 am)