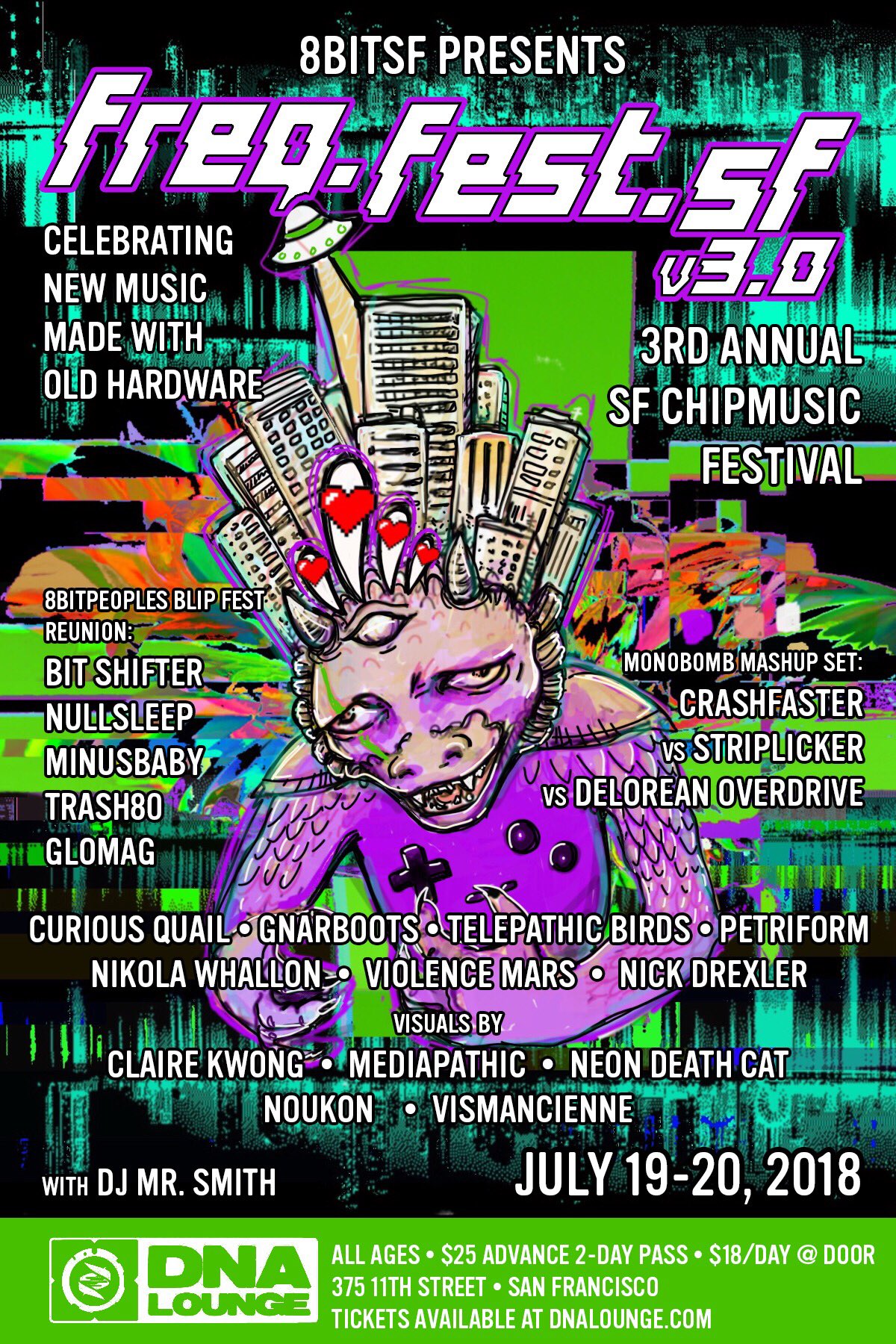 Hey didn't see this posted yet so I thought I'd post it up. Excited to throw down in about a week and a half in San Francisco for FreqFestSF v3.0, with tons of outrageous talent.
Get your tickets here; full details below from the Facebook event page:
------------------------------------------
8bitSF resurrects the Freq.Fest monster for a third summertime marathon of chiptune madness! Each evening features a wide and eclectic lineup of artists devoted to making new music with old hardware.
For Freq-y Friday, we present an all-star lineup of classic chiptune artists from the East Coast's 8bitpeoples netlabel, all veterans of the long-running Blip Festival, reunited under DNA Lounge's roof!
Capping off the lineup is an extra-special three-way mashup set of Monobomb Records bands featuring a variety of performers presenting tracks from all three bands' catalogs: Crashfaster, Striplicker and Delorean Overdrive!
DAY ONE: Thursday, 7/19/18
Curious Quail
Gnarboots
Telepathic Birds
Petriform
Nikola Whallon
Violence Mars
Nick Drexler
DAY TWO: Friday, 7/20/18
8bitpeoples Blip Festival Reunion:
Bit Shifter
Nullsleep
minusbaby
Trash80
glomag
Monobomb Mashup Set:
crashfaster x Striplicker x Delorean Overdrive
VISUALS
Claire Kwong
Mediapathic
Neon Death Cat
Noukon
VISMANCIENNE
With DJ Mr. Smith
doors @ 7pm; show @ 7:30pm
all ages
$25 advance 2-day pass
$18 daily at door
Flyer artwork by Hekkate
------------------------------------------
Gonna be good, come out and rage.
FreqFestSF v3.0
July 19 - 20 at DNA Lounge
375 Eleventh Street, San Francisco CA 94103
Facebook event page: https://www.facebook.com/events/164231724429858
Flier by Hekkate