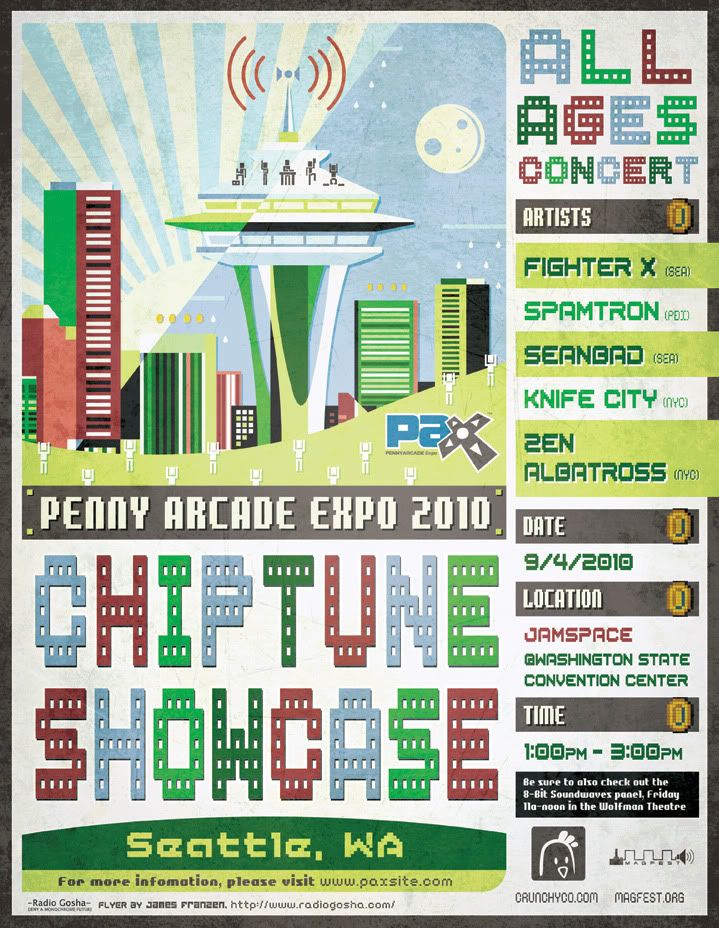 PANEL
8-Bit Soundwaves: A Look into the World of Chiptune Music (Presented by Crunchy Co.)
Friday, September 3rd, 11 AM
Wolfman Theatre @ Washington State Convention Center
Seattle, WA
CONCERT
Saturday, September 4th, 1 PM - 4 PM
JAMSPACE @ Washington State Convention Center
Seattle, WA
Free w/ PAX badge
****ARTISTS****ARTISTS****
****ARTISTS****ARTISTS****
♡‿♡FIGHTER X♡‿♡
Fighter X is Nickolas Walthew and Jack Waterman. Fighter X has rocked audiences up and down the Great Northwest and in their home-city of Seattle. With recent performances at New York's Blip Festival and the Chiptune Alliance UK Tour, Fighter X's music has been taken live world-wide.
Website: http://www.myspace.com/fighterxtreme
http://www.youtube.com/watch?v=EizqR3a6P4E
♡‿♡SPAMTRON♡‿♡
Spamtron is a chiptune composist (not a comPOSER!) from Portland, Oregon. Inspired by classic video game soundtracks, Spamtron writes high-detail, low-bit dance music that is equally heavy and melodic.
Website: http://www.myspace.com/spamtron
http://www.youtube.com/watch?v=TVfGUabtjBI
♡‿♡KNIFE CITY♡‿♡
Knife City is the latest incarnation of Luke Silas' lifetime fascination with both making music and classic video games. He uses a pair of Game Boys to produce music meant for dancing. He also plays drums for the NYC chip-rock band Anamanaguchi, who are returning to perform for their third year at PAX's main concerts.
Website: http://www.myspace.com/knifecityny
http://vimeo.com/12428332
♡‿♡ZEN ALBATROSS♡‿♡
Zen Albatross is a rare musician/journalist hybrid from Brooklyn, NY that uses homebrew software and ancient spirit magicks to craft introspective elegies and infectious dance beats for the Nintendo Game Boy. When he's not playing gigs or stuck on a New York City subway train, he writes articles about technology, music and videogame culture for Vice Magazine's nerd news portal, Motherboard.
Website: http://www.zenalbatross.net
http://www.youtube.com/watch?v=ujTTZW9MBj0
♡‿♡SEANBAD♡‿♡
SeanBad is a local chip musician from Snoqualmie, Washington that writes heavy dance tunes with deep bass. He has been producing music for 2 years and was the one of the highlights of the outdoor chiptune showcase at last year's PAX.
Website: http://8bc.org/members/SeanBad/
http://vimeo.com/6461359
•(◐﹏◐)•**SPECIAL MYSTERY GUESTS**•(◐﹏◐)•
??????????????????????????????????????????????????????????????????
Website: ???????????????????????
♡♡♡Flyer design by James Franzen♡♡♡
Last edited by Zen Albatross (Aug 17, 2010 10:22 pm)