Yo,
It's "The Lost Party Invitro 2019" by HOOY-PROGRAM & Piesiu. Musi by Yerzmyey, code by Hellboi.
It's a ZX Spectrum cover of Beethoven's Symphony No 5 in C minor, Op 67 (fragment). :-P
Made with ZX Spectrum 48K + AY-interface.
I made this from hearing; sorry about that. :-P
The prog works on ZX Spectrum 48K with AY-interface.
Tfarde diho rulez.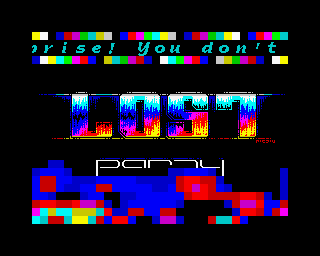 the PROG:
https://www.pouet.net/prod.php?which=80707
YOUTUBE:
https://youtu.be/FQYkwnTNQMk