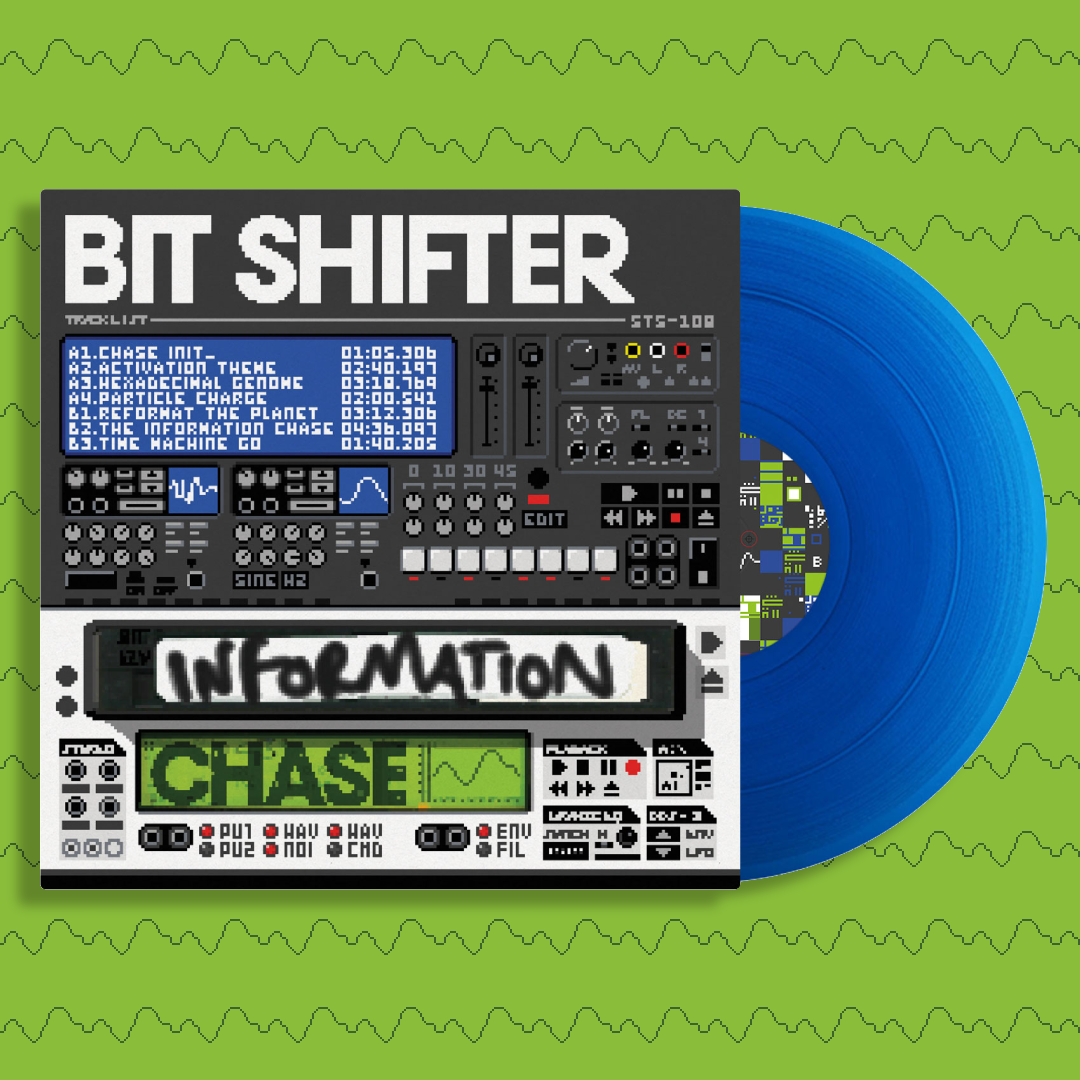 INFORMATION CHASE • LIMITED EDITION VINYL RELEASE · PREORDERS LIVE NOW
Can barely believe it myself

, but it's true — fifteen years after its original release on 8bitpeoples as 128 kbps .mp3s, I'm happy to say my EP Information Chase is now being released on limited-edition vinyl via the wonderful people at Ship to Shore PhonoCo.. This is a dream come true for me, and I'm super excited.
Pressed on transparent blue vinyl, the album comes in very clever die-cut packaging which boasts additional new artwork by pixelsmith Drew Wise. Remastered for vinyl by Dietrich Schoenemann of Complete Mastering.
Purchase of the vinyl release gets you a digital download of the album (which, for those keeping score, includes the bonus tracks that came with the album's 2013 Bandcamp release) — ★PLUS★ a never-before-released third bonus track — "Reformat The Planet (Low Gravity Version)," an alternate, slower rendition that some might recognize from various live performances over the years — finally given a proper studio recording, and masterfully mastered by Chris Burke (glomag / the Mandible Judy podcast). This track in particular has become pretty special to me, and I hope you enjoy it.
Preorders are live now, through:
• Black Screen Records in the EU,
• chipfreq in the UK, and
• Ship To Shore PhonoCo. everywhere else.
Links to all three options here • https://linktr.ee/bit_shifter
Whether, to you, this EP is brand new or old news, I'm just personally overjoyed that it will exist in this format, and I sincerely hope you enjoy it.
Thanks!