I was looking forward to start rocking in HoustonTracker 2 today, but I got stuck on getting the sync to my PC working.
I have a TI83+ and gray Graph Link /w serial port. I'm on win7 64bit.
This is my cable: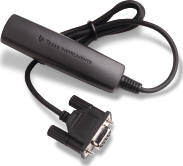 In the TiLP settings I have selected GrayLink and TI83+.
When clicking Ready or DirList I get the error: "Msg: timeout occured while reading from the device. Cause: check that link cable is plugged and/or the calculator is ready."
Some times I get the error above with this text after: "The system cannot find the path specified".
Also when I start TiLP, my calculator freezes (the cursor stops blinking).
I tried all ports in the settings and only one causes the freezing - I guess this is the correct one.
The calculator can send/receive to another TI83+ without problems. I think I have missed something basic here.
Plz hlp!