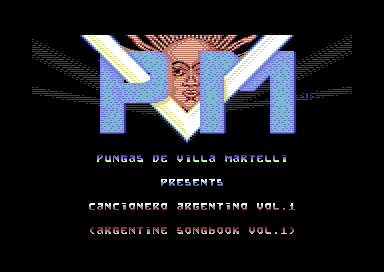 The Pungas de Villa Martelli collective introduces the "Argentine songbook vol. 1" music album for Commodore 64 computers that includes chiptune versions of songs by argentine musicians in varied styles. The album's concept is to be able to listen to these songs re-interpreted through the use of recycled technology sometimes considered obsolete. The album can be loaded, listened to and watched on real hardware, be it C64 or C128 computers in all its models. It can also be run on an emulator on PC, Mac and other platforms. There's also a youtube video available for ease of access.
The credits for this release are given to Uctumi y CoMu for tracking the c64 versions of the songs imprinting their creative vision, Riq for coding the executable file in a real technical and creative prowess and Alakrán who carefully crafted the vibrant graphics and animations on screen.
Thanks to the kind invitation of the argentine music group Turf, Uctumi was able to play live his version of the song "Loco un poco" (A little bit crazy) as a preview within the concert held by the group at the night club La Trastienda in Buenos Aires on 14 December 2016.
The album's approximate playtime is 35 minutes and the file size of the executable is only 42 kilobytes, that's about 0.042 megabytes, a ridiculous file size for current computing standards.
Track list:
01 - Uctumi - Keep on living without your love/Seguir viviendo sin tu amor (Luis Alberto Spinetta)
02 - CoMu - Last tango in Paris/El último tango en París (Gato Barbieri)
03 - Uctumi - Classified ad love/Amor clasificado (Rodrigo Bueno)
04 - Uctumi - Do it for me/Hacelo por mí (Ataque 77)
05 - Uctumi - Woman lover/Mujer amante de (Rata Blanca)
06 - Uctumi - Juana Azurduy (Mercedes Sosa)
07 - Uctumi - Just a little bit crazy/Loco un poco (Turf)
08 - CoMu - Chew/Masticar (Fun people)
09 - Uctumi - Fugitives/Prófugos (Soda Stereo)
10 - Uctumi - Argentine National Anthem/Himno Nacional Argentino (Blas Parera/Vicente López y Planes)
Download C64 executable at CSDB here
http://csdb.dk/release/?id=153497
Last edited by colecomusic (February 13, 2017 8:28 pm)