Returning to the Dublin club scene in a eargasmic explosion of brightly coloured pixels, Gamepak are almost ecstatic to present one of Berlin's most innovative beats-and-bleeps-artists.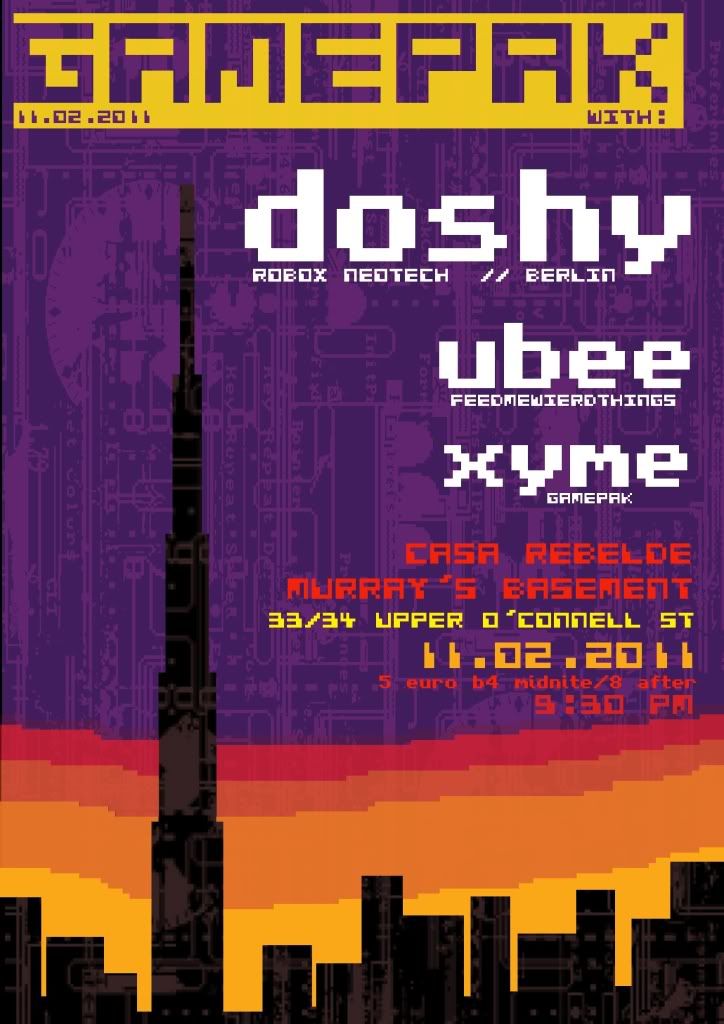 Having given us soon-to-be classics of chippy dubstep like "Space Attack" and of course Chip" Doshy's approach provides a unique and playful twist on contemporary bass-heavy electronic music. His style is generally saturated with chippy sounds, and with plenty of exuberantly arpeggiated synths, sci-fi sonic imaginings and digital nostalgia for the audio detrius of 80s and 90s. His recent Scatter Remixes release saw his work remixed and rejiggled by some of the most forward-thinking electronic experimentalists around, including Rudi Zygadlo, Pixelord, Monky, Democracy,Halp & Coco Bryce.
We're happy to have the welcome return of Galway's Ubee, complier extraordinaire of new beats and bizarre pictures. Expect weird warped rythyms with lazerblangs and awkward BPM. His liveset for gamepak @ Thomas House last year was mega; like his "Insert Coin" mix, evoking the smoky arcades where you could get "entranced on pixelated crack" - 'nuff said.
We'll also have special live visuals on the night courtesy of Claire Guerin, who's been Vjing for the last two and a half years and is also the director & co/creator of The Guesthouse project space in Cork. We'll also have a special live improv set early on arising from the collective experimentation of our circuit bending workshop (fb event page here on January 29th in Exhange Dublin.
Plus we'll have live console visuals from iNFOtoxin, and Gamepak residents CSixtyGorce and Xyme bringing the bleeps. Not to mention classic and quirky bigscreen console gaming, drinks deals and more - music till very late in Casa Rebelde, in the newly refantasticalated basement of Murray's on O'Connell street. (Over 18s - 5euro in before midnight, 8 thereafter).
Your quiet night in is in another castle.
Check out this mix from Doshy here or check a clip of a recent performance here on youtube for a taste of what to expect.
Last edited by Gamepak Dublin (Jan 25, 2011 8:20 pm)